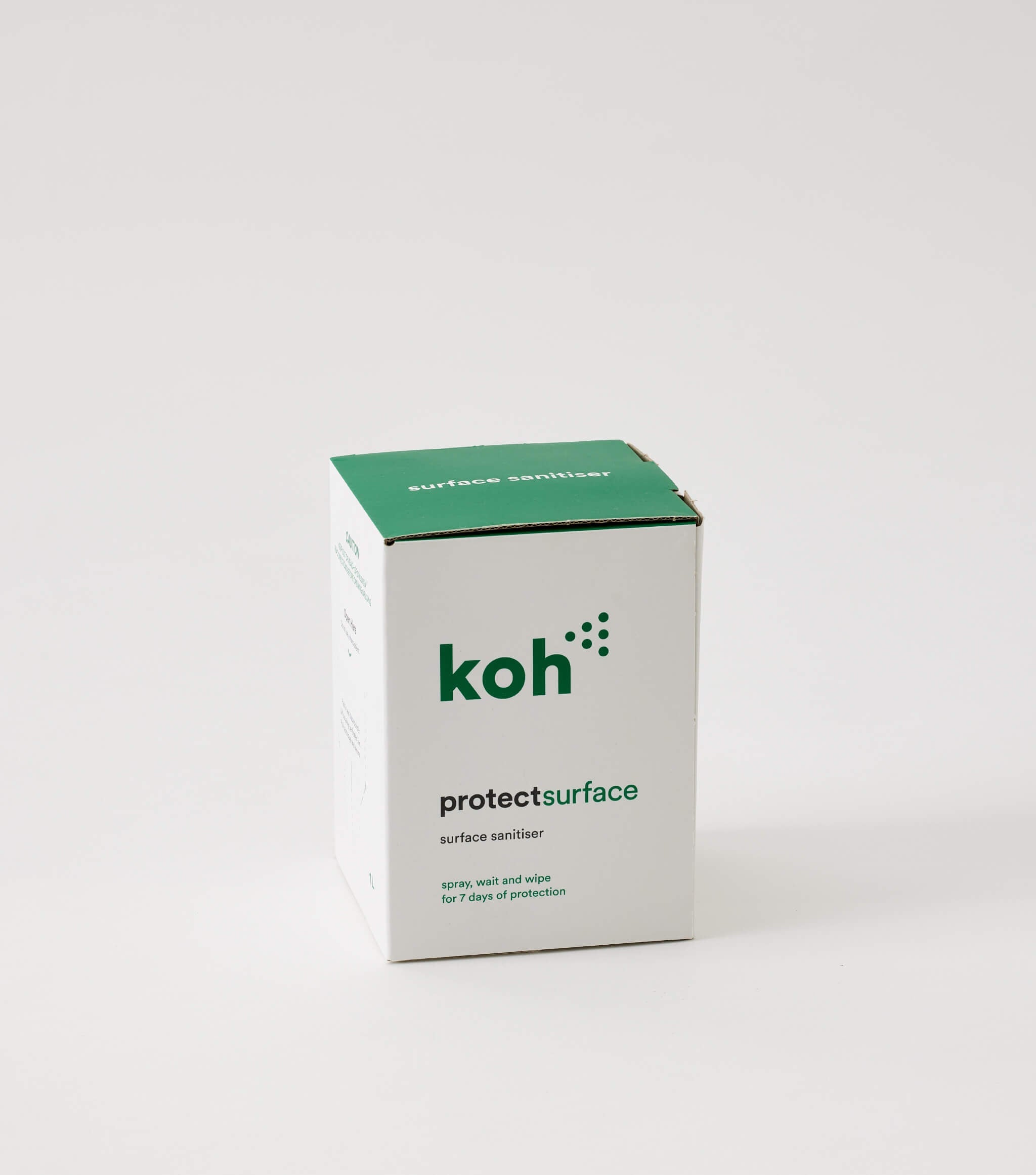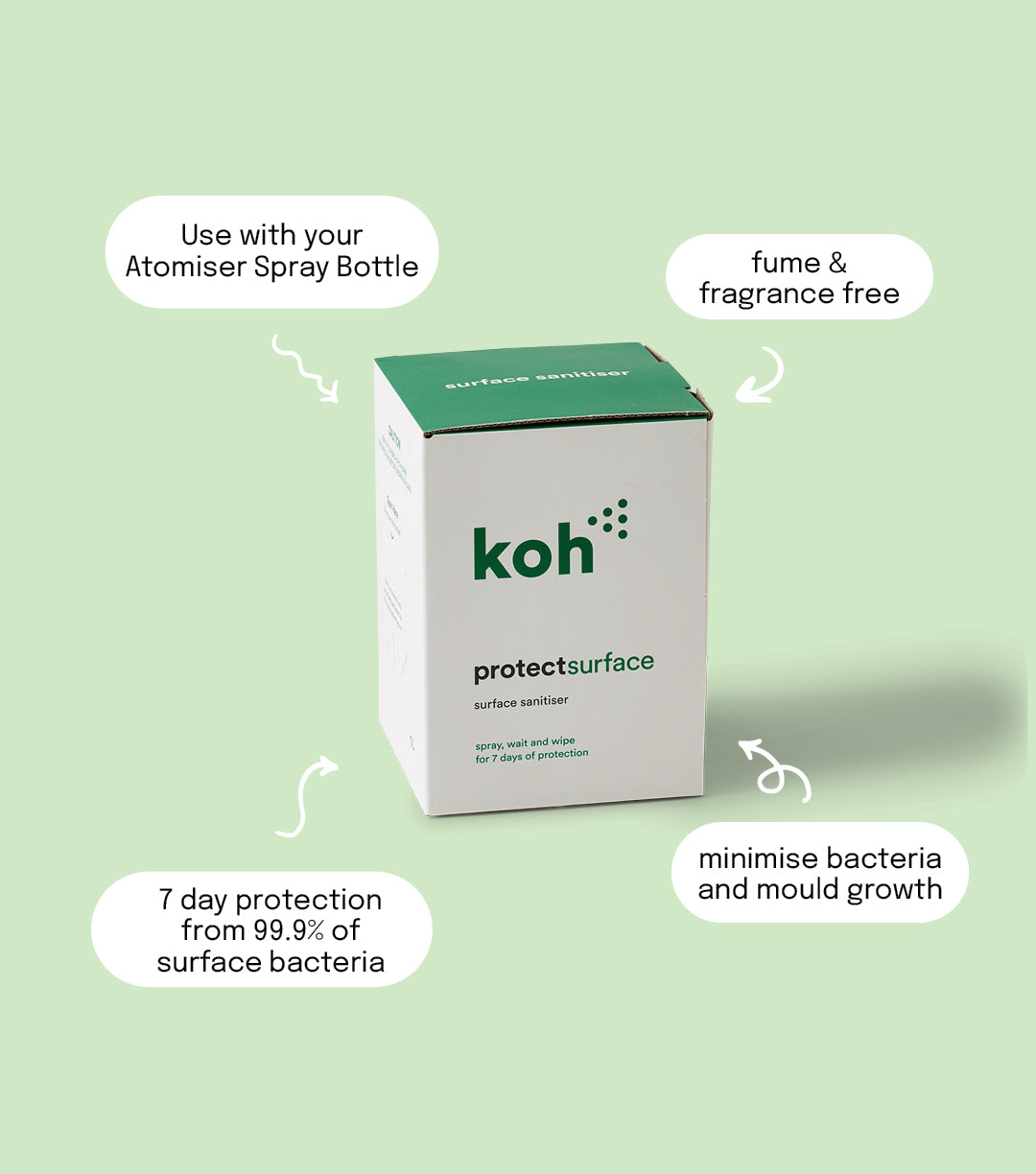 Sold outSave
Protect Surface Sanitiser
We plant one tree for every Koh order, which really adds up!
Over 100,000 verified reviews and counting with 4.7/5 average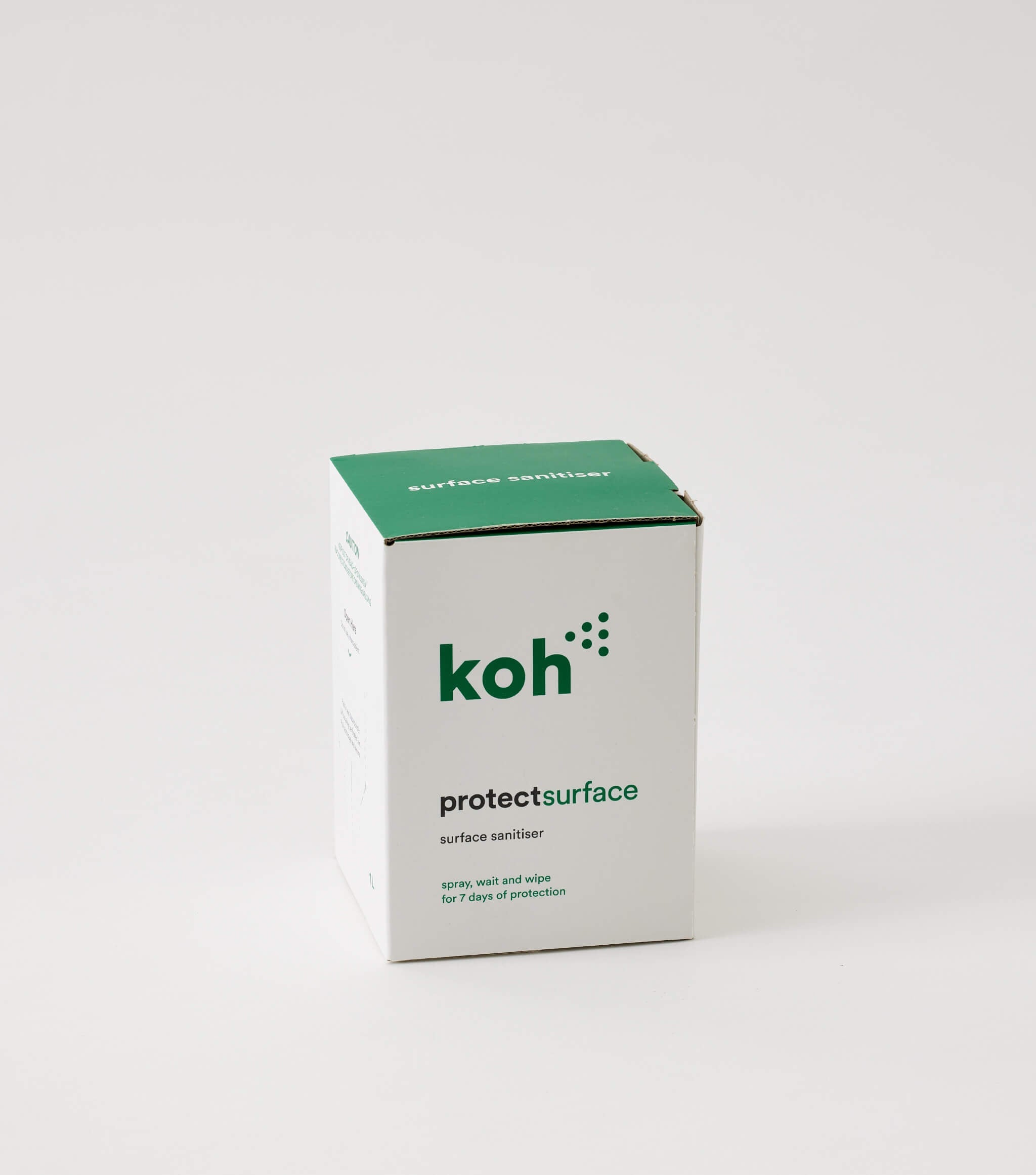 NO ANIMAL TESTING
ECO CERTIFIED
ALLERGY FRIENDLY
KERBSIDE RECYCLABLE
NO SMELL
NO NASTIES
REFILLABLE
PLANET FRIENDLY
TREE PLANTING
Long-lasting 7 day protection from 99.9% of surface bacteria
Eco-certified, fragrance free surface protection from bacteria and mould growth without the chemical nasties.

Use Protect Surface Sanitiser with Universal Cleaner and Koh Universal Cloths for 7-day protection from 99.9% of bacteria.
For protection against 99.9% of bacteria:

1. Spray Universal Cleaner liberally to the target surface and clean as normal with Universal Cloth until dry
2. Spray Protect Surface onto the same area
3. Wait 3-5 minutes until dry
4. Use the Universal Cloth to wipe away any residue

Will protect surface from 99.9% of bacteria for up to 7 days.

For mould removal and protection:

Step one:

1. Apply Koh Universal Cleaner liberally to the target surface.
2. Wait for 2-3 minutes.
3. Wipe down with dry Universal Cloth.
4. Repeat until all visible spores are removed.

Note: During this process we recommend wearing gloves and suitable face mask to avoid contact / inhalation of spores which can be harmful.

Step two:

1. Once surface has been cleared of spores and dried off, spray Koh Protect liberally on the surface.
2. Wait 5 minutes and then gently wipe away any excess residue.

This surface will now be sufficiently protected from mould spore regrowth for up to three months

Sustainability and environment

Protect Surface Sanitiser is fragrance-free and eco-certified by Good Environmental Choice Australia.
Toxic chemical-based sanitisers kill germs and bacteria already on a surface, but once the germs are killed, they do not provide on going protection or stop bacteria from mutating. Protect Surface destroys bacteria on a surface and offers ongoing protection for 7 days.

The active ingredient of Koh Protect Surface is 3-(Trimethoxysilyl) Propyl Dimethyl Octadecyl Ammonium Chloride. The active ingredient makes up 0.75% of the total formulation for safe usage. The inactive ingredients are purified water (over 99% of the formulation) and Alkoxylated Aliphatic Alcohol
30 Day Money Back Promise

We're sure you'll love our product. But if you don't, send it back within 30 days of delivery, and we'll refund it.
This product has no reviews yet.