Sold outSave
Loo Blade (white)
We plant one tree for every Koh order, which really adds up!
We ship within 24 hours of your order, so you can get to cleaning!
NO ANIMAL TESTING
ECO CERTIFIED
ALLERGY FRIENDLY
KERBSIDE RECYCLABLE
NO SMELL
NO NASTIES
REFILLABLE
PLANET FRIENDLY
TREE PLANTING
Polish your porcelain throne with this hygienic bristle-free alternative to old-fashioned toilet brushes, handmade with sustainable materials.
No more bacteria-harvesting bristles (gross), Loo Blade's recycled TPE head is easily cleaned, can be sanitised with boiling water and gets into the nooks and crannies regular bristle toilet brushes can't - so you don't need to worry about germs lingering around your bathroom.

Made from sustainable materials including FSC certified bamboo and water repelling, durable recycled TPE.
Drop a Loo Cleaner Tablet into your loo bowl, leave 10-15 minutes for the effervescent tablets to work their magic then use Loo Blade to scrub away any grime or mineral residue - then flush and enjoy your sparkling loo.
Sustainability and environment

Loo Blade is handmade from sustainable materials. The handle is FSC certified bamboo - a sustainable alternative to wood as it is a fast-growing crop that requires very little water and doesn't need to be sprayed with pesticides or fertilisers to grow.

Loo Blade also has a durable, hydrophobic (fancy word for water repellant) recycled TPE head that is replaceable so you'll never need to buy a new loo brush again!
Loo Blade is made with an FSC certified bamboo handle and replaceable recycled TPE blade head.
30 Day Money Back Promise

We're sure you'll love our product. But if you don't, send it back within 30 days of delivery, and we'll refund it.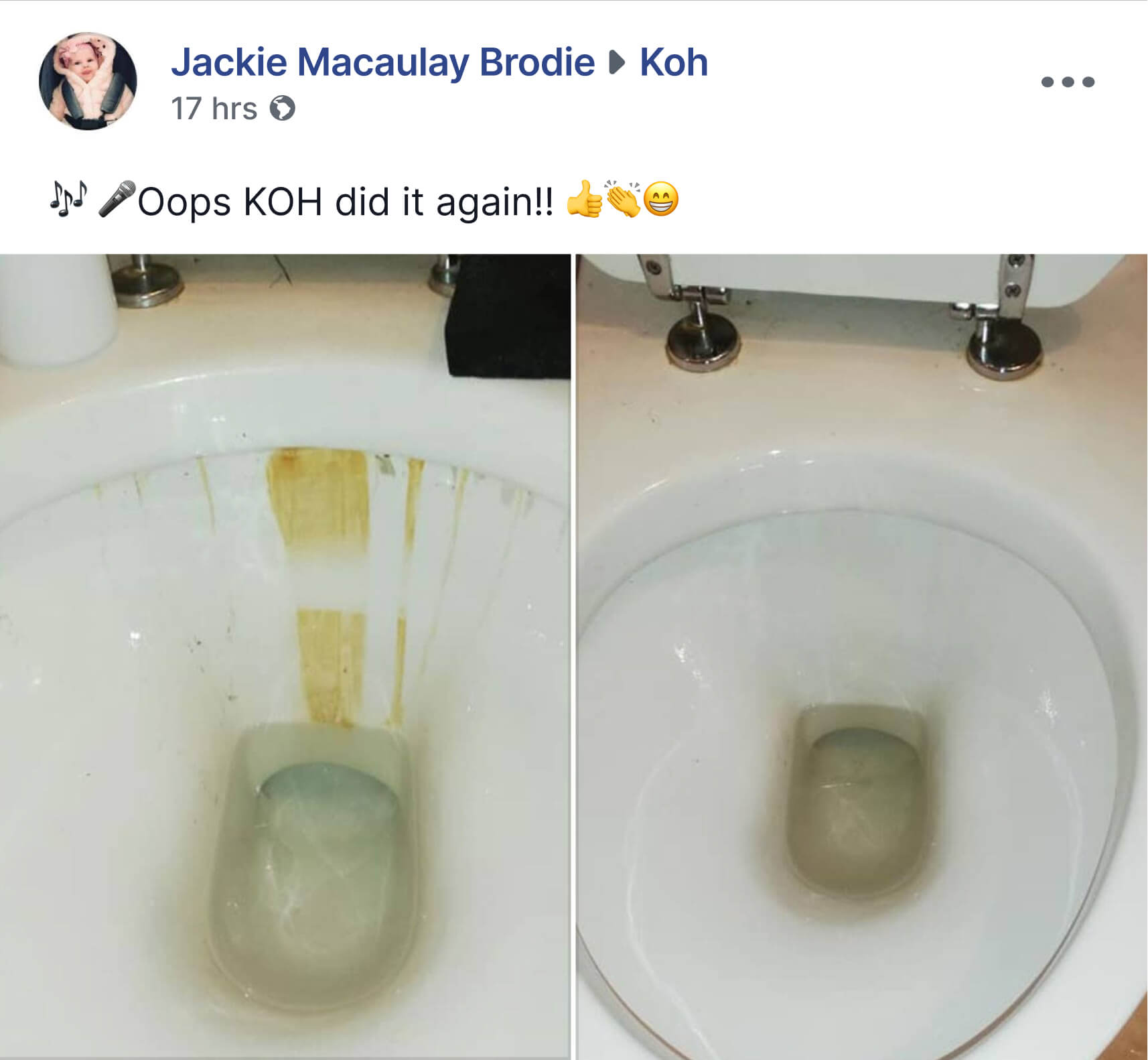 TOILET
WATCH KOH WORK
Koh vs. Toilet
1. Drop Loo Cleaner Tablet into your bowl (or cistern if you have easy access)
2. Leave for 5-15 minutes to let the tablet fizz and work its magic
3. Use our Loo Blade to scrub away the grime.
This product has no reviews yet.