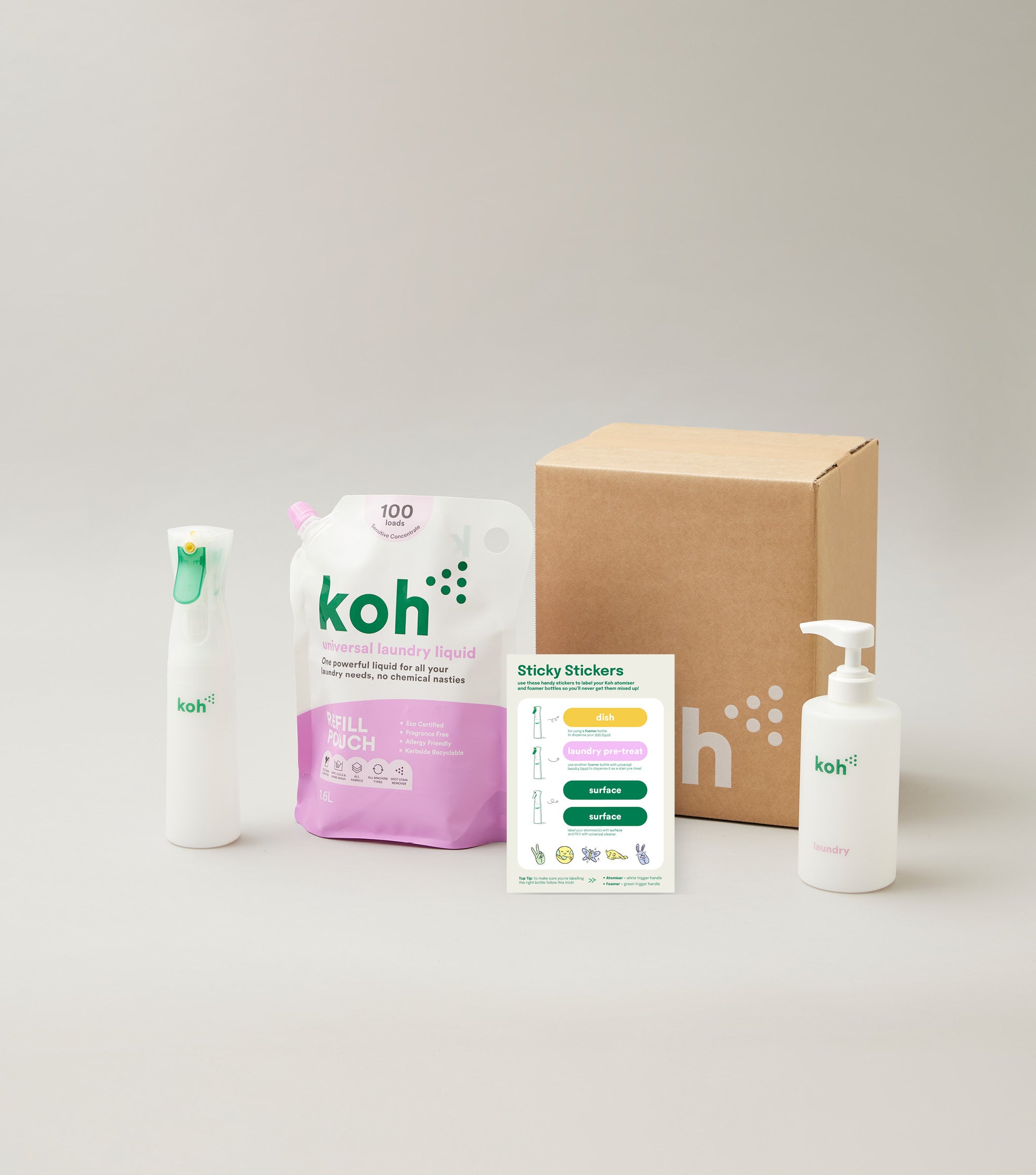 Laundry Starter Kit
1x Universal Laundry Liquid 1.6L ($49.95)
1x Foaming Spray Bottle ($14.95)
1x Laundry Pump Dispenser ($9.95)
1x Very Helpful Stickers (free)
---
We plant one tree for every Koh order, which really adds up!
Over 100,000 verified reviews and counting with 4.7/5 average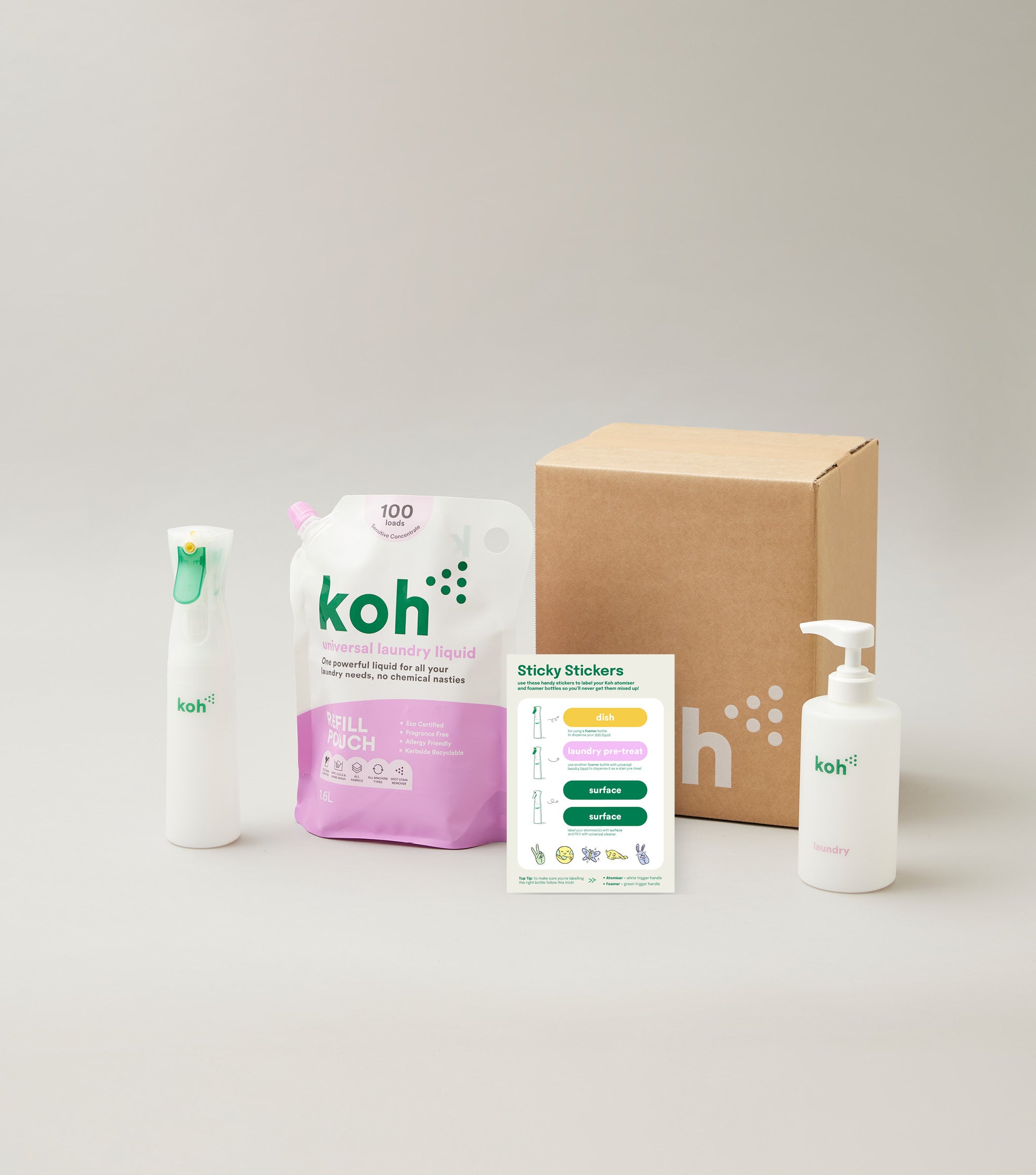 NO ANIMAL TESTING
ECO CERTIFIED
ALLERGY FRIENDLY
KERBSIDE RECYCLABLE
NO SMELL
NO NASTIES
REFILLABLE
PLANET FRIENDLY
TREE PLANTING
Our complete laundry system with everything you need to get started with Universal Laundry Liquid.
Universal Laundry Liquid is a high performance pre-treat & wash in one, formulated with powerful naturally occurring biodegradable enzymes that also care for your textiles.

Use it with our Laundry Pump to dispense the perfect amount for every load and our Foaming Spray Bottle to apply as a pre-treat.

The kit also comes with a free sheet of Very Helpful Stickers so you can label your Koh bottles.

Universal Laundry Liquid is fragrance free (did you know most laundry liquids use fragrances to cover up lingering odours, but we don't need them because we eliminate odour causing grime). We know some people like a fragrance in their laundry which is why it pairs perfectly with our Lemon Scented Tea Tree Essential Oil, just add around 5 drops per load for a zesty scent.

Our award-winning pouch design is the first soft liquid packaging format in Australia to be suitable for kerbside recycling.

Formulated to be compatible with septic, greywater and bio-cycle systems
Universal Laundry Liquid is suitable for colours, whites, hot, cold & hand washing, front and top loaders and can be used on most fabrics (always follow clothing care instructions).

Use with our refillable Laundry Liquid Dispenser bottle, for washing machines use 4 pumps (16ml) for a normal load and for a large load 6 pumps (24ml) is recommended. If hand washing use 2 pumps per 5 litres of water.

Stain pre-treater
Use in a Koh Foamer Bottle (please make sure it is in it's own, separate, bottle - no sharing with dish liquid!) to dispense onto stains. Rub and wait 5-10 mins and wash as normal

Sustainability and environment

Universal Laundry Liquid is free from chemical nasties, making it a safer choice for our planet. It's also:

- Eco-certified by Good Environmental Choice Australia
- Allergy friendly and approved by the National Asthma Council Australia's Sensitive Choice™ program.
- Dermatologically tested
- Vegan and no animal testing
- Septic, greywater and bio-cycle compatible

We use >90% less plastic in our packaging* and using refills means no need for any single use plastic trigger spray bottles or tools.

Roll'n'Recycle® - when the pouch is finished simply roll it up, secure it with the provided sticker and pop it in your household recycling bin.

Foaming Spray Bottle & Laundry Pump are both refillable and reusable. Foaming Spray Bottle comes with a manufacturer rated lifetime of 50,000 trigger pulls, which is 10x more durable than typical refill sprayers that usually only last for around 5,000 sprays (not all reusable trigger spray bottles are made equal). With our reusable and refillable bottles and tools we're helping to eliminate single use plastic and giving you a safer way to clean.
We've simplified cleaning, taking out the chemical nasties and only including the essentials for a safe and effective clean with no fumes or fragrances.

Universal Laundry Liquid uses next generation biodegradable enzymes that work deeper to give you a more thorough, hygienic clean.

CONTAINS: <15% Proprietary nonionic polymer, Coco glucoside, Lauryl glucoside, Sodium xylene sulphonate, Sodium C14-16 olen sulfonate, Sodium lauryl sulfate; <5% Disodium EDTA, Sodium coco sulfate, Lipase, Pectate, Lyase, Cellulase, Deoxyribonuclease, Benzyl alcohol and Dehydroacetic acid

Laundry Pump and Foaming Spray Bottle are both made from strong, long-lasting recyclable HDPE.
30 Day Money Back Promise

We're sure you'll love our product. But if you don't, send it back within 30 days of delivery, and we'll refund it.
Universal Laundry Liquid proudly carries the Dermatest® seal.

Universal Laundry Liquid is independently tested for skin tolerability on people with sensitive skin under the control of dermatological specialists and according to international guidelines.

No relevant skin reactions were detected in the test, and is deemed from a clinical-dermatological point of view to be tolerated "excellently".
All-in-one laundry game changer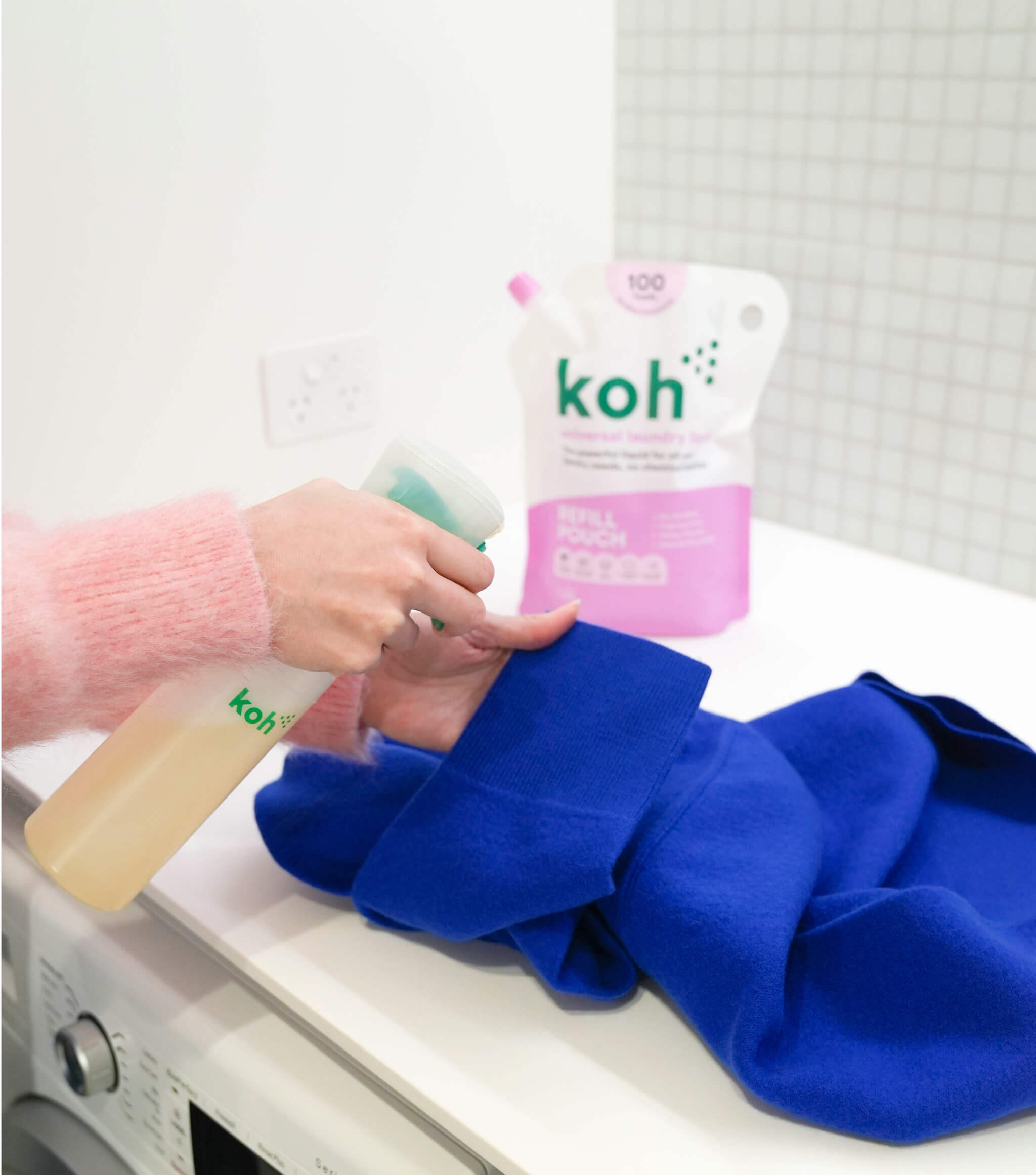 Pre-Treat
The ultra concentrated formula means it works wonders as a pre-treat (without the nasties).
Apply directly onto stains or stubborn grime like collars, cuffs and underarms to prevent buildup and remove funky odours.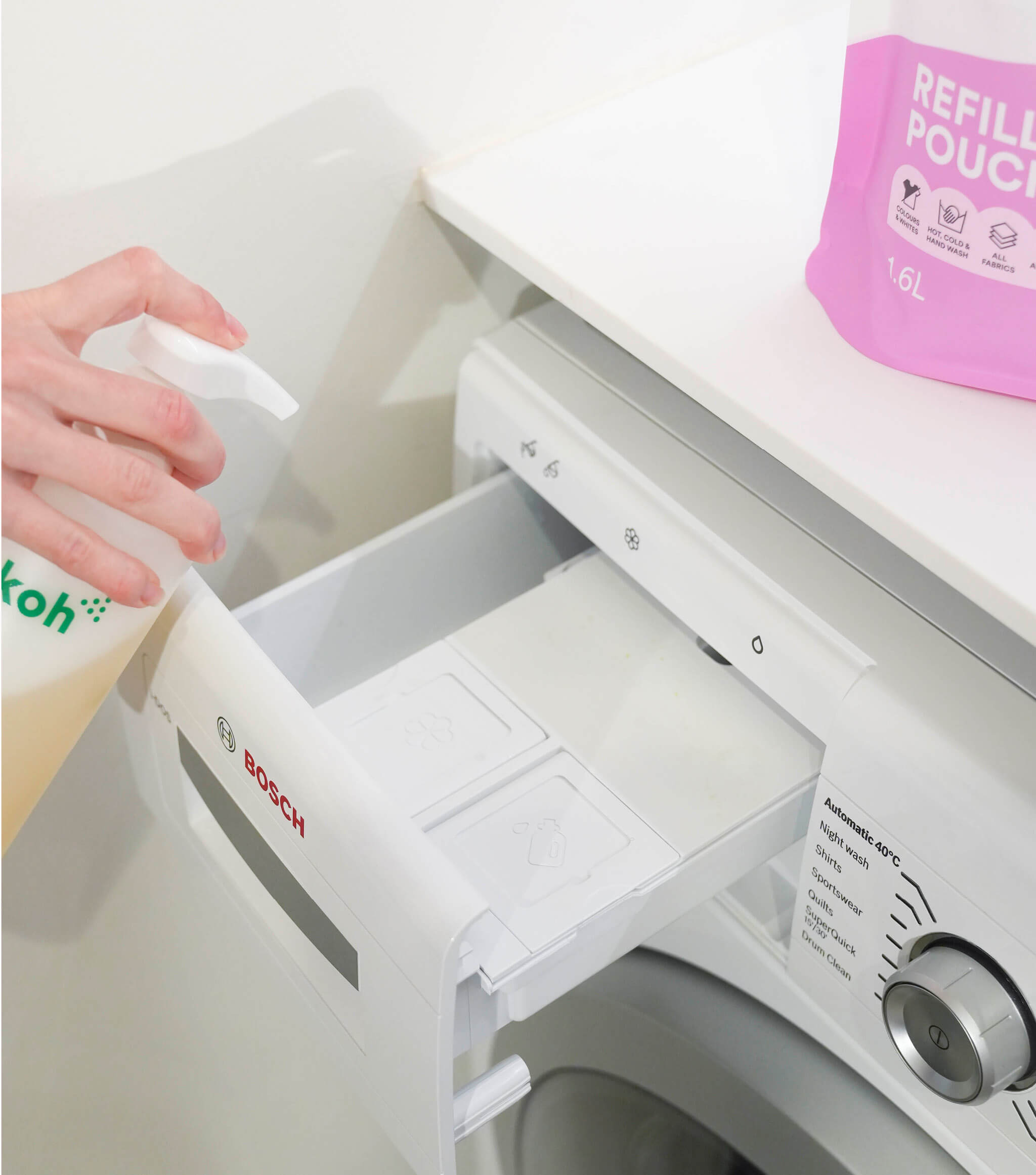 Laundry Wash
The formula is ultra concentrated which means a little goes a long way (and you're not paying for water!)
The 1.6L pouch contains 100 regular loads which is enough for one load a day for over 3 months... nice!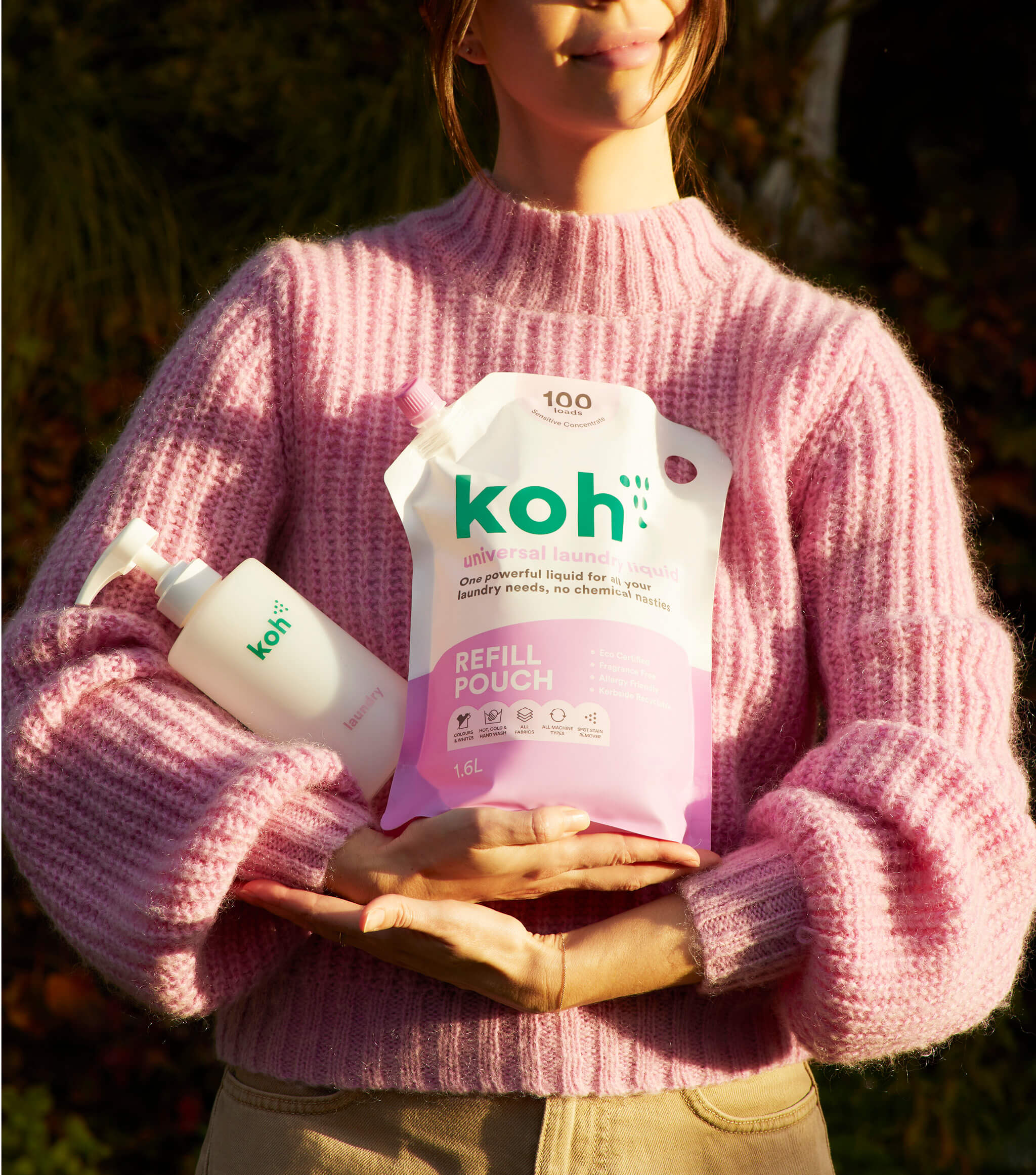 Sensitive Formula
Dermatologically tested and Sensitive Choice approved, Universal Laundry Liquid is free from harsh chemical nasties and synthetic fragrances.
If you prefer a fragrance, add your favourite essential oil.
What's in the kit?
Universal Laundry Liquid 1.6L
Innovative science backed all-in-one formula for all your laundry needs.
Laundry Pump Dispenser
Reusable & refillable pump to accurately dispense the right amount of Universal Laundry Liquid.
Foaming Spray Bottle
Reusable foaming spray bottle for effortless application of Universal Laundry Liquid as a stain pre-treat.
Very Helpful Stickers
Label your Koh Atomiser and Spray Bottle tools with these very helpful stickers, so you'll never mix them up!
What is Koh Universal Laundry Liquid?

Universal Laundry Liquid is an all-in-one, eco-certified, allergy friendly, ultra concentrated laundry liquid suitable for hot and cold washes and compatible with front and top loading machines as well as hand washing.
How many loads are there in a 1.6L pouch of Koh Universal Laundry Liquid?

100 regular washes or 66 large loads.
Does Koh Unive​​rsal Laundry Liquid contain any fragrances?

Universal Laundry Liquid contains no fragrances. However a few drops of essential oil can be added to each wash of your choosing. Simply apply the essential oil to a clean cloth and include in the wash.
How can Koh Universal Laundry Liquid save me money?

Universal Laundry Liquid eliminates the need for the following:

Stain pre-treaters
Bleaching / whitening detergents
Fabric softeners 

Universal Laundry Liquid also saves you money by extending the life of your laundry by protecting the natural fibres from damage typically caused by aggressive chemicals conventional laundry detergents
NO ANIMAL TESTING
ECO CERTIFIED
ALLERGY FRIENDLY
KERBSIDE RECYCLABLE
NO SMELL
NO NASTIES
REFILLABLE
PLANET FRIENDLY
TREE PLANTING