Sold outSave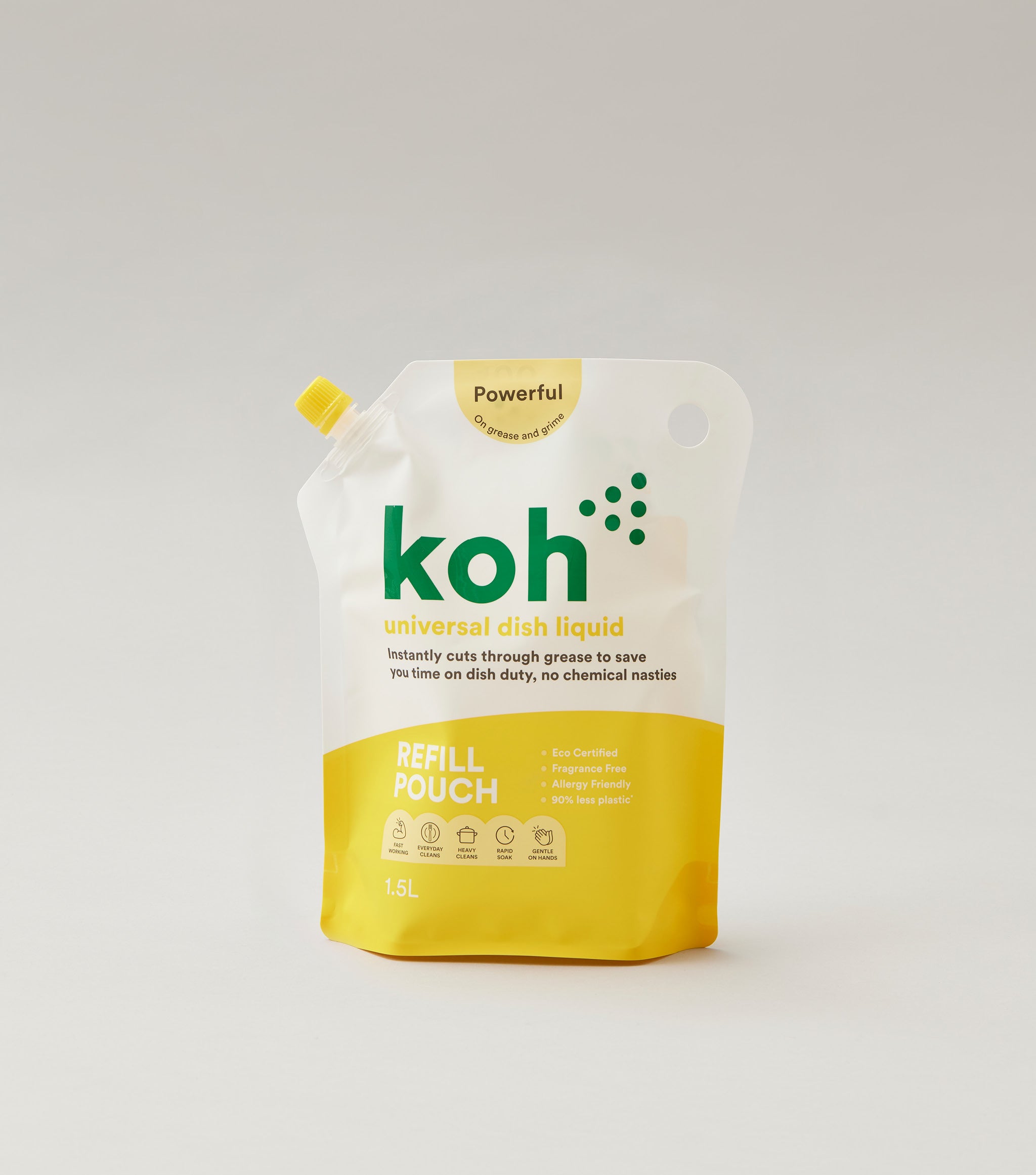 Universal Dish Liquid
We plant one tree for every Koh order, which really adds up!
Over 100,000 verified reviews and counting with 4.7/5 average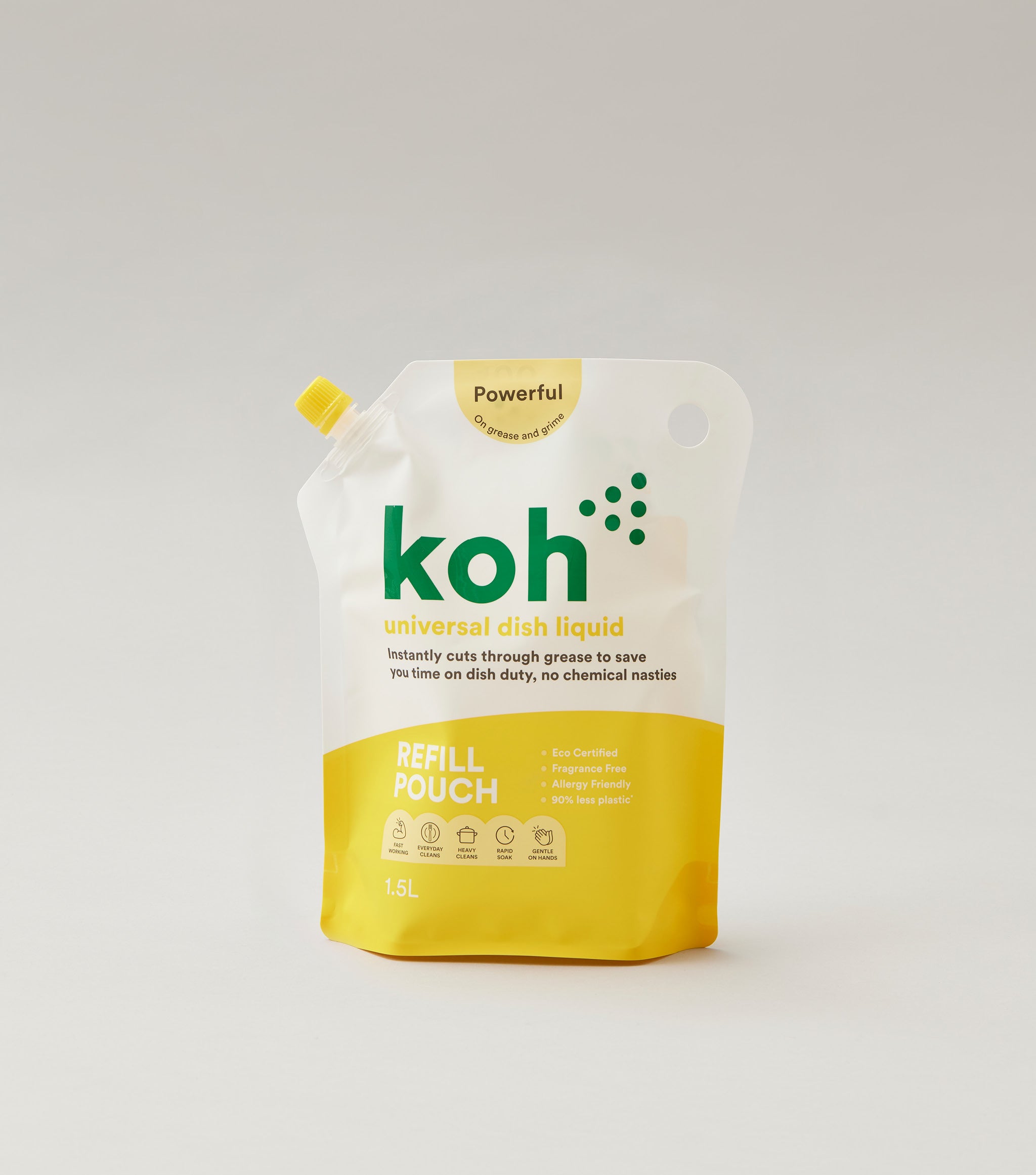 NO ANIMAL TESTING
ECO CERTIFIED
ALLERGY FRIENDLY
KERBSIDE RECYCLABLE
NO SMELL
NO NASTIES
REFILLABLE
PLANET FRIENDLY
TREE PLANTING
Clean dishes fast and effectively without chemical nasties.
Universal Dish Liquid (new name, same great product) is eco-certified to the GECA cleaning standard and recommended by the National Asthma Council Australia's Sensitive Choice™ program; which means it's a better choice for you, your family and our planet.

Our award-winning pouch design is the first soft liquid packaging format in Australia to be suitable for kerbside recycling.
Use Universal Dish Liquid with the refillable Foaming Spray Bottle and washable Dish Sponges to whizz through dirty dishes and cookware in a fraction of the time. Universal Dish Liquid also works in most dish wands and pairs well with your favourite scrubby tool.

Koh Universal Dish Liquid uses the latest enzymatic technology that rapidly breaks down fats, starches and proteins so you can quickly and easily clean your pots, pans and dishes.

Use the Foaming Spray Bottle to spray 1-2 pumps on a Dish Sponge for lighter cleans (our go-to for mugs, cups and cutlery) or directly onto cookware or dishes for a heavier clean, then scrub using a scrubby tool.

Heavier, baked on grease and grime? Give your dishes a waterless soak - spray a few pumps and work it in using your favourite scrubby tool, this also helps spread the foam further so you can use less product. Leave the foam for 10-15 minutes then use your favourite scrubby tool.

Universal Dish Liquid has been formulated to care for sensitive skin, with nourishing vitamin e it also doubles as a gentle and effective handwash… nice! Keep our Foaming Hand Pump by the sink to dispense into your hands.

You can also use Universal Dish Liquid as an effective window cleaner! Simply spray directly onto your windows, clean with a traditional squeegee and be astonished at your clean, clear windows.
Sustainability and environment

Universal Dish Liquid is free from chemical nasties, making it a better choice for our planet. It's also:

- Eco-certified by Good Environmental Choice Australia
- Allergy friendly and approved by the National Asthma Council Australia's Sensitive Choice™ program.

We use 90% less plastic in our packaging* and using refills means no need for any single use plastic trigger spray bottles or tools.

Roll'n'Recycle® - when the pouch is finished simply roll it up, secure it with the provided sticker and pop it in your household recycling bin.
30 Day Money Back Promise

We're sure you'll love our product. But if you don't, send it back within 30 days of delivery, and we'll refund it.
NO ANIMAL TESTING
ECO CERTIFIED
ALLERGY FRIENDLY
KERBSIDE RECYCLABLE
NO SMELL
NO NASTIES
REFILLABLE
PLANET FRIENDLY
TREE PLANTING